Costa Rica has positioned itself at international level as a leading country in the generation of policies and regulations for environmental protection. At Zürcher Odio & Raven we are aware that the sustainability component is key to providing legal counsel to our clients. Our expert professionals with extensive experience in this area allow us to provide specialized advisory on this domain.
We ensure that the projects, business and activities of our clients are in full compliance with the applicable environmental legislation and assist in the implementation of sustainability policies, processes and strategies. We assist our clients in identifying and preventing environmental risks. Our services are varied, and we accompany our clients from early planning stages and permits paperwork, to representation in litigation in administrative and judicial courts in processes related to environmental legislation. Our advisory in this field includes compliance with environmental regulatory requirements, regulatory analysis of aspects related to Natural Heritage of the State and Protected Wildlife Areas, water resources, emissions, comprehensive waste management, energy and fuels, mining, maritime territorial zone and climate change.
We integrate the department's advisory into different transactions conducted by the firm and the other practice areas, including real estate, Free Trade Zone Regime, commercial and corporate matters, enabling us to offer comprehensive legal counsel. Our team has worked closely with companies in the industrial, commercial and service sector, multinational companies, international organizations, non-governmemtal organizations; and has also cooperated with the public sector and public-private alliances.
Why integrate environmental advisory into your business?
Maintaining a preventive approach to environmental damage and its implications is essential for all kinds of projects, activities and investments. Preventing environmental and human health damage arising out of regulatory non-compliance, prevents contingencies and administrative, civil and criminal sanctions from being imposed, as well as affecting the perception of corporate image.
The experience of our team has shown that a lawyer specialized in environmental law gives value added of utmost importance, even within a work team of experts in different areas. The incorporation of environmental legal assistance and advisory from the early preparatory stages of different activities has proven to be highly beneficial for our customers, by identifying potential risk factors existing, limitations and conditions of environmental nature and preventing setbacks and rejections in the processing of requirements.
The implementation of sustainability practices for the purposes of reducing operating costs, attain a better positioning in the national and international markets for different products and services strengthen the corporate values and social responsibility commitments. We encourage our customers to pursue the continuous improvement of their activities to work towards regulatory compliance and the reduction of their ecological print, by incorporating the assessment of environmental, social and economic aspects.
---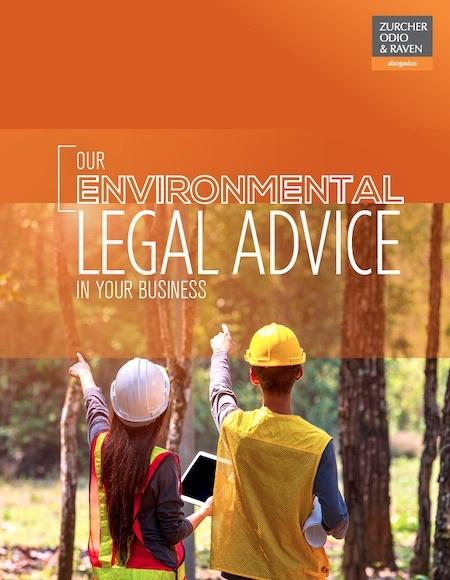 Environmetal compliance is essential for all types of projects, activities and investments.
Currently, companies face different challenges in sustainability issues, such as compliance with regulatory requirements, risk management, pollution prevention, implemntation of sustainability strategies, among others. Our firm becomes an important ally by providing specialized legal advice that allows us to address these challenges promptly and adequately, as weel as visualize opportinities.
We invite you to download the following brochure where you can obtain more information about our Environmental Legal Advice. 
---
Our team
Luciana Pineda
Alexandra Raven
Nathalie Carit
Josué Monge
---
For more information about our services, please contact us through the following form:
CONTACT US
---
Phone: 506 2201 3800
Email: info@zurcherodioraven.com
Address: Plaza Roble, Edificio Los Balcones, 4th. Floor, Escazú, San José, Costa Rica.
P.O. Box: 154-1255 Escazú